1) I give just as much recognition to the runners-up as the winner of each category
2) I don't whore out to mainstream crap
3) I'm not Spike TV
So without further ado, let's go back in time and remember the best (and a few of the worst) games of last year, 2009!
Best Indie Game NOT Fueled by Mtn Dew
Runner-Ups:
-Flower
-'Splosion Man
-I MAED A GAM3 W1TH Z0MB1ES 1N IT!!!1
WINNER:
Beat Hazard
Out of the runners up, Flower probably had the best chance of beating the winner. It's such a beautiful and calming game, a real relaxing time. 'Splosion Man is amazingly fun, but even though Twisted Pixel is technically an indie developer, their games don't have that same ghetto indie charm that a game like I MAED A GAM3 W1TH Z0MB1ES 1N IT!!!1 has.
Imagine Asteroids combined with Geometry Wars and Audiosurf, and that's the beauty of Beat Hazard. If you have a 5 minute long speed metal track, then prepare for 5 minutes of balls-to-the-wall space shooter action. The replay value of this game is limited only by how much music you have in your collection, and since I am pretty sure most of us can get new music faster than you can say ''Frostwire,'' then you have a steady supply of game right there. This is one of the best downloadable games on the 360 not just for this year, but all time, right up there with Castle Crashers and Portal: Still Alive.
P.S. Am I the only one who thought the most pant-shittingly braindead moment of the VGA's last year was the fact that the award for INDIE gaming was sponsored by fucking Mountain Dew? What says indie gaming more than corporate sponsorship? Many, many things, I'm sure. With logic like that, Dorito's Dash of Destruction should have been nominated for this award.
Best Racing Game
Runner-Ups:
-Forza 3
-Need For Speed SHIFT
WINNER:
WipEout HD Fury
I know, I KNOW, I'm kinda cheating here since Fury is just an expansion of the original WipEout HD, but what the fuck else am I gonna vote for, Forza 3? Hell no, too predictable. Need For Speed SHIFT? Fuck you, they're dead to me now that they've ditched the street racing scene for ''legit'' pro bullshit. I only added them as runner-ups because they are designed pretty well, all things considered, and if you're not me, you might enjoy them.
We need more arcade-style racers, and since Nintendo is content to sit with their thumbs up their asses instead of making a fucking F-Zero game, then a good ol' WipEout game needs to pick up the slack. Besides, Fury practically made WipEout HD a new game. Trophy support, new tracks, a campaign, new vehicles, and more make the expansion even beefier than the original game. If you thought WipEout HD was too expensive for its lack of content before, Fury is sure to change your mind.
Biggest Fucking Letdown
Runner-Ups:
-Bionic Commando
-Halo Wars
-TMNT: Smash-Up
-Afrika
LOSER:
Dragon Ball: Raging Blast
All of these games I had a personal stake in, and all of them kicked me in the dick... so to speak.
Bionic Commando is a fuck-up in 3 different ways. The gameplay is bad despite the awesome, AWESOME idea of swinging around like Spider-Man with a machine gun, there's way too many advertisements unsubtly shoved into the game, and none of the awfully-voiced people in the game are likable, especially not the main character. I saw an early screenshot of him, and due to the bad lighting I thought I'd finally get to play a game as a non-stereotypical black man for a change, like Louis from the first Left 4 Dead, until I saw that it was a white guy with dreadlocks...
a white guy with dreadlocks.
WHAT THE FUCK!
Halo Wars is both Halo and an RTS, so I thought it'd be good. I love the Halo series, and I grew up on RTS games, so I figured it'd be a game for me, not too complicated as it is a console RTS but just enough for me to get my feet (and consequently my dick... don't ask) wet. Now, it's just an overly-simplified point-and-click game.
And what a way to celebrate the 25th anniversary of the Teenage Mutant Ninja Turtles, to re-skin a slowed-down version of Super Smash Bros. Brawl, using the art style of the horrible 2007 CGI movie, and the voices from the 2003 animated series instead of the voice actors from the original cartoon or the live-action films.
Afrika seemed like a niche game, but it was a niche I was a part of, the photography nutcase niche. Unfortunately, boring travel and lack of polish ruined it for me. Not only that, but the damn game doesn't look good whatsoever, and since it is a game about taking pictures, the visual aspect actually fucking MATTERS this time!
As for Dragon Ball: Raging Blast... fuck it, I'm done.
Why the hell
do DBZ games just get worse and worse each year? It isn't even playable, not with that god-awful camera, the fucked-up controls, the lack of a decent story mode, and the fact that you just don't feel like a powerful warrior while playing with a character selection about half as big as its PS2 predecessor.
Best Licensed Game
Runner-Ups:
-Afro Samurai
-X-Men Origins: Wolverine
WINNER:
Ghostbusters: The Game
This is how you do a licensed game, goddammit! I love Afro Samurai, but the game just wasn't that well-made (a game with a ghetto hip-hop vibe being fucked up the ass by lazy developers who just don't give a fuck? Noooo, that's never happened before!) X-Men Origins was cool when you were hacking people apart as Wolverine, or even standing still to watch his body heal after his torso was literally blown off, but it was a movie-tie in, which means the plot is even weaker than the movie (which is saying something) and there is a feeling of mediocrity in it.
Ghostbusters, on the other hand, suffers from none of this. It's a continuation of the series canon, it makes its own story (and a good one at that). It really makes you feel like a member of the Ghostbusters, and you can tell the people involved in the game cared about it. You can feel the love they put into it, with all kinds of subtle nods and easter eggs to give you a good feeling of ''holy fucking shit, this is a Ghostbusters game! That would explain my raging hard-on.''
... Or is that just me?
Worst Licensed Game
Runner-Ups:
-Are you kidding? If I made an actual list of all the bad licensed games this year alone, I'd be here forever.
LOSER:
Transformers: Revenge of the Fallen: The Game
...Do you even need a reason? Do I REALLY need to tell you why I picked this as the worst licensed game? You people should know by now how much I loathe everything that has even shared the same air as Michael Bay and his bastardization of the Transformers franchise. It's not even the most poorly-made game (that honor goes to such heavy misses as Terminator: Salvation and G.I. Joe). It's repetitive as hell, but it's functional, and some people actually like the multiplayer. But no, it's Transformers: Revenge of the Fallen, and no amount of ''not completely fucking up the gameplay'' can make up for that!
Best New IP
Runner-Ups:
-Muramasa: The Demon Blade
-Moon
-Shattered Horizon
WINNER:
Borderlands
This game is like the yin to Fallout 3's yang. While Fallout was a FPS-RPG hybrid that was more RPG, Borderlands puts more emphasis on the FPS combat, but not too much that it loses its touch with classic RPG mechanics, especiaally loooooooot. It's an incredibly satisfying, refreshingly unique game with great future potential. I haven't played much of it, but the thing that proves the quality of this game is that I WANT to play more, more than any other new IP this year.
Best DLC
Runner-Ups:
-Fallout 3 - Broken Steel
-WipEout HD Fury
-GTA: The Lost & Damned
WINNER:
GTA: The Ballad of Gay Tony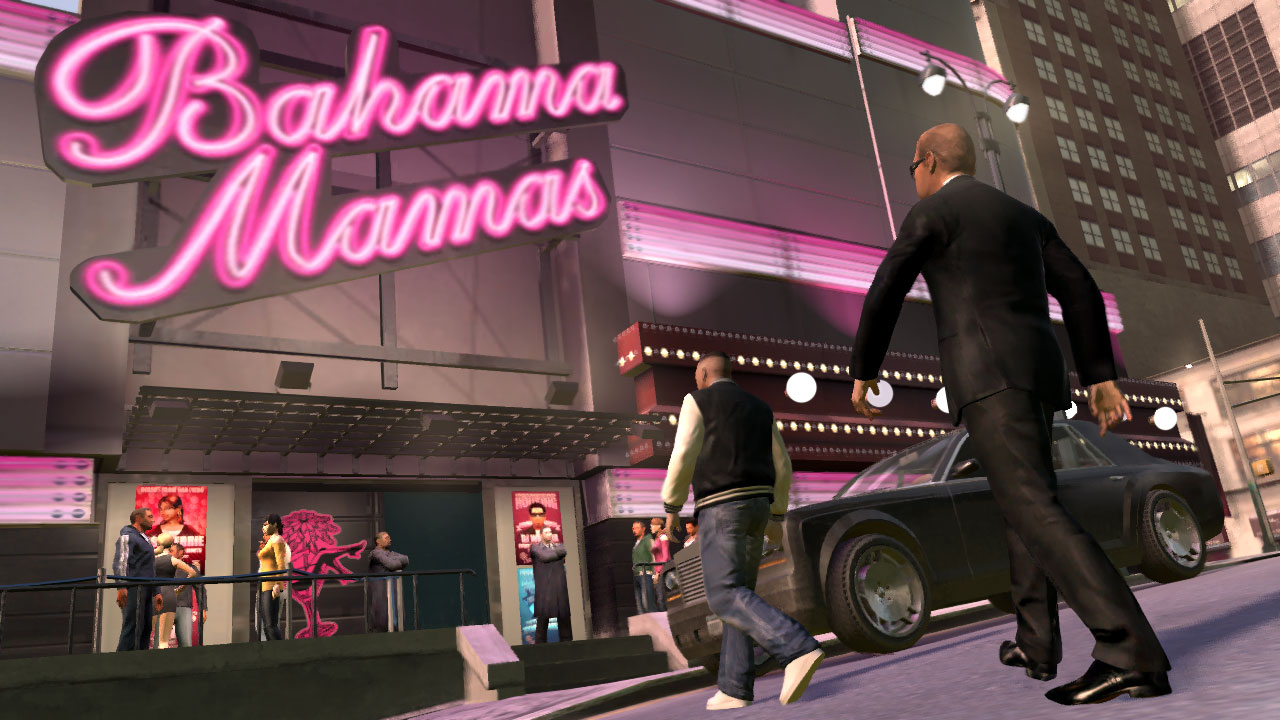 Besides it being over-the-top GTA fun while not succumbing to fucking stupid game mechanics like flying on a jetpack fighting MIB agents, this episode of the GTA IV saga is the one with the most flavor, the characters are the most likable, whether they're actually supposed to be or not, and the unique way Rockstar did the story, focusing not on the main character but of his boss, was just genius.
Best Multiplayer Game
Runner-Ups:
-Left 4 Dead 2
-Halo 3: ODST
-Fat Princess
WINNER:
Shattered Horizon
Left 4 Dead and Halo did a few things to change how multiplayer works. Left 4 Dead 2 gives a great co-op and competitive experience, and Halo 3: ODST focused completely on a fantastic co-op experience while giving people all of the original Halo 3's multiplayer maps. Fat Princess was fun all over, more fun that it should be to give royalty diabetes to avoid kidnapping. Hmm, maybe Mario should try that.
But none of them can compare to Shattered Horizon, which delivers tried-and-true competitive multiplayer in a PC first-person shooter, but giving the gameplay itself a rather welcome twist, offering a mix of the comfortably familiar and some new. I've always said multiplayer is only as good as the gameplay that runs it, and Shattered Horizon is a testament to that. It's impossible for me to judge multiplayer in a game by itself, which is why games like Bionic Commando and Transformers: Revenge of the Fallen suck despite their decent multiplayer. It is also the reason this certain shout-out is titled the way it is, ''Best Multiplayer Game.'' I want to judge the game itself as well as the multiplayer. All the games listed focus on multiplayer itself, which is why they all deserve props, but Shattered Horizons lives up to its name, delivering a game that focuses on reinventing its gameplay first, then delivering a solid multiplayer around it. If you want to play a fresh online FPS for a change instead of the same Battlefield and Call of Duty games, then pick Shattered Horizon.
Most Underrated Gem
Runner-Ups:
-Katamari Forever
-Shattered Horizon
WINNER:
Mini Ninjas
People don't love the old Katamari ball like they used to, and a very innovative and fun multiplayer FPS on the PC is being overlooked more than a 5 o'clock sitcom, but Mini Ninjas is the most accessible wad of pure fun that I swear needs some more publicity. When I say accessible, I don't mean casual. The only reason Shattered Horizon isn't accessible is because of the tremendous PC requirements, and Katamari is a game series that seems to only be appreciated by select gamers. Mini Ninjas is a tried-and-true adventure title with true charm and alot of enjoyment. I can understand how Shattered Horizon is being overlooked, regrettable as that is, since it is only available on Steam, requires powerful PC hardware, and has seen absolutely no marketing, not so much as an internet pop-up. Katamari can also be understandably overlooked, as most people will see it as more of the same Katamari, even though that is far from a bad thing. Mini Ninjas, however, has no excuse other than poor marketing. It's available on both the 360 and PS3 as well as the PC, is rated E10, and has a pick-up-and-play feel to it. Get it now... fuckers.
Most Over-Hyped Piece of Fuck Sandwich
Runner-Ups:
-Uncharted 2
-Killzone 2
-InFamous
LOSER:
Call of Duty: Modern Warfare 2
It's kinda weird how almost all of the games that were hyped like fuck this year were PS3 exclusives. Maybe it's because the Wii and 360 had just about fuck all to get excited about, but I don't see why every time a PS3 exclusive is nearing its release, the forums explode like fuck. Anyone who dissed InFamous as a third-person shooter with a generic good/evil moral system and more focus on the parkour bullshit than the fact that you can shoot lighting from your fucking hands (which was mostly just me) was almost crucified on GT, and Killzone 2's hype reached a period of absolute ridiculousness. However, the hype for those games is gone now, and has been replaced with people forming cults dedicated to Drake and MacTavish. However, to be truly hyped stupid is to have the biggest launch of a game in history, despite a constant stream of pre-release news about the game that entered the realms of ''what the fuck are they thinking?!''
They did everything in their power to oppress the multiplayer by restricting servers on the PC version and even going so far as to tell you who you can and cannot talk to during play on the 360 version, and when Modern Warfare 2 actually came out, all that shit about dedicated servers was the least of their worries. Horrible game-breaking bugs, glitches, exploits and even a fucking virus! Adding onto that is the fact that, even without the horrendously broken coding and the videogame equivalent of AIDS, the multiplayer is a campfest to the point where I wouldn't be surprised if you could actually unlock marshmallow-roasting and telling ghost stories at a campfire as a perk.
Despite all that, despite the stream of bad news flowing before and after the game's release, the game has won Best Multiplayer Awards up the ass, and even Best PC Game, not to mention the GOTY awards. If that doesn't say ''over-hyped,'' then I don't know what does.
Best Music Game
Runner-Ups: None
WINNER:
Beaterator
I've already expressed how much I dislike the Guitar Hero and Rock Band franchises, which are nothing more than expensive rhythm-based quicktime events with a musical instrument peripheral, with music that caters only to the hard rock and punk rock crowd. To have a game that not only succumbs to none of that bullshit, but lets you create your own music, is a fresh breeze. To be able to make my own hip-hop beats is great, and the sound selection is magnificent. It's not so much a game though, more like a music creator, but you know what? That doesn't bother me, I love having this game do what it does, and do it well. Now that it's out for the iPod Touch and iPhone, it's no longer excluded to the PSP crowd, which I am not a part of.
Since I'm not doing a shout-out for best PSP game (since I had almost zero experience with it this year), let's just assume I'd give this game that shout-out too.
Worst Music Game
Runner-Ups:
-Guitar Hero 5
-LEGO Rock Band
-Band Hero
LOSER:
DJ Hero
I'm going to go ahead and only mention the runner-ups shortly so I can quickly get to DJ Hero. Guitar Hero 5 is the definition of milking a game, LEGO Rock Band is proof that God doesn't exist, and Band Hero is pop-country music, that's bad enough. Now, to DJ Hero.
The expensive-as-gold-plated-shit peripheral actually works, unlike certain crappy skateboarding games also released by Activision, so I can't fault it for that. They did more with the music than just buying the licenses for the songs, they went to the trouble of mixing songs together, so I'll give them that. But I can fault it very,
very
harshly for one very specific thing. I'm from Miami, the DJ capital of America, so I know what the fuck I'm talking about when I say that the music they selected for the game is complete and utter
infuriating unforgivable inexcusable

BULLSHIT!
Jay-Z, Tupac, Public Enemy, and Grandmaster Flash, that's perfect. A little too mainstream for my tastes, since half the greatness of DJing is using music given to you by up-and-coming underground rappers, but at least it's still hip-hop. The Jackson 5, that's fine, I guess. Bel Biv Devoe, sure why not. Gwen Stefani, I can overlook... it's just a couple of songs, right? Paula Abdul, a little fucked up, but whatever. Gorillaz, now you're pushing it. The Killers, why the fuck? Motorhead, ok what's going on here? Foo Fighters, seriously what the fuck are you trying to pull? This isn't Guitar Hero you assholes, get that rock music out of here you fucking shits! But no, that's not the worst of it. No, not even the Beastie Boys are the worst, although they're close to it. There are two artists they included which are not justifiable in any way. Their inclusion of these two musicians are just too horrible to even imagine.
FUCKING VANILLA ICE AND MC HAMMER!
Are you fucking kidding me?! If a DJ in Miami tried playing that shit, he'd get shot in the
fucking face
. As if the fact that their songs are mixed with other artist's songs wasn't bad enough, one of the mixes in the game is both of their shitty songs mashed together! I tried, I truly tried to listen to the mix of ''Ice Ice Baby'' and ''U Can't Touch This'' and I just fucking COULDN'T. I almost stabbed myself in the EAR! Why does it suck so bad! There's such a thing as ''personal music tastes,'' which is why some people defend DJ Hero since it's supposed to have a more broad range of music for people of all tastes, but NO! You cannot justify Vanilla Ice and MC Hammer, the two biggest failures in hip-hop, being in this game, or any game for that matter!
And now that I mention it,
why the fuck
does this game try to appeal to a broader audience? Guitar Hero didn't do any of that shit, that game sucked the dick of every 40 year-old AC/DC, Van Halen and Lynyrd Skynyrd fan while simultaneously wanking off the multitude of punk rocker Hot Topic-shopping fucks. Guitar Hero, and even Rock Band, cater to a selective audience, so why can't DJ Hero? Ooooh wait, I think I can guess! Because the ''selective audience'' of the DJ nightclub scene is, besides the techno, mostly
hip-hop music!
Now it all makes sense! Gamers hate hip-hop because they're mostly douchebags from the suburbs, and most devs know this, so making a hip-hop videogame is just asking for low sales figures, no matter how good it is, because you nerds in the suburbs would rather bitch about which alternative rock bands are "selling out" than listening to good music. Eat a dick, all you motherfuckers.
DAMN that felt good! Now I can finally wash my hands of this insult to music forever, and not pay it any more mind... until DJ Hero 2 comes out... and oh god, the spin-offs. DJ Hero: Beastie Boys... you know what...
...

FUCK YOOOOUUU!!!



Worst Fucking Shit I've Seen This Year
WARNING: Lots of rage in this section. And I mean a fucking LOT
.
Enjoy.
Runner-Ups:
-NASCAR Kart Racing (yes that was an actual game)
-Leisure Suit Larry: Box Office Bust
-Stalin vs. Martians
-Fairytale Fights
LOSER:
Star Wars: Clone Wars: Republic Heroes
A game that's so bad, the DEMO alone got me infuriated. Honestly, what the fuck? What. The. FUCK?! Every single game I mentioned, from fucking Leisure Suit Larry to fucking Stalin to fucking NASCAR, and especially fucking Star Wars, is bereft of any excuse for how piss-poor they are! Not just their gameplay, but the very concept of them! the creative directors of all these games should be ashamed of themselves! NASCAR kart racing? Are you high? And did someone really think a game in the Leisure Suit Larry franchise would be anything other than shit? And Stalin... fucking Stalin fighting Martians... who came up with that? And Fairytale Fights, really? Are they just devoid of any originality? Oh, let's take some cute kiddie stuff and just throw in alot of blood and dismemberment. Hey assholes, Happy Tree Friends and pretty much the whole entire internet beat you to it by a goddamn millennium!!!
And last, but not least... Star Wars. Oh, how the mighty did fall so very very fucking hard. This is wrong, this is 10 different kinds of wrong. You are the worst offender of all, truly the worst fucking shit I've seen this entire year. You cannot justify your awfulness at all. You had the biggest support of them all, LucasArts themselves, while the other games were just from second-rate studios like Playlogic Entertainment, and you had STAR WARS on your side! The only reason you stood out over games as awful in body and spirit as Stalin vs. the Martians is because that shit had no expectations! None of those games were expected to be worth a damn thing because their very premise is shit
incarnate.
Honestly, was there anyone in the world who was anticipating the release of NASCAR Kart Racing? Did a single person pre-order Fairytale Fights? No, you wanna know why?
BECAUSE NONE OF THEM ARE
STAR WARS
!!! You unforgivable motherfucker!!!
Best Game Only on the Wii
Runner-Ups:
-Madworld
-Muramasa: Demon Blade
-House of the Dead: Overkill
-Dead Space: Extraction
WINNER:
New Super Mario Bros. Wii
Two of the runner-ups are original IP's that show off some great gameplay and presentation, the other two are rail-shooter spin-offs of established franchises that prove that rail-shooters can be fun outside the arcade. However, nothing of that sort can ever live to beat a Mario platformer! Need I say more? If you got a problem with that, you might wanna take it up with...
OH GOD!
Best Game Only on the PlayStation 3
Runner-Ups:
-LittleBigPlanet: GOTY Edition
-Pixeljunk Shooter
-Noby Noby Boy
-Katamari Forever
WINNER:
Ratchet and Clank Future: A Crack in Time
These are my kind of games! If anyone, and I mean anyone, has a problem with me not giving any props to InFamous, Killzone 2, or Uncharted 2... please, take it up with Realistic Mario. I fucking dare you.
I love platformers. I love imagination. I love crazy shit. How could I give the PS3 shout-out to anyone other than my favorite Lombax? Out of all of Sony's old mascots like Spyro, Crash Bandicoot and Jak, Ratchet and his buddy Clank were always my favorite. Every time I'm able to get my hands on even a split second of the newest game, whether at a homie's place or through breaking and entering, I just love every minute of it. It plays magnificently, it looks brilliant, it is the definition of what a videogame is. Just looking at it for a second, you know: that's a motherfucking GAME! That one PS3 commercial, where the guy says his girlfriend keeps mistaking Uncharted 2 for a live-action movie, is the vision of a future I dread. I don't want games to look like movies, I want them to look like GAMES! Because games look so fucking
goooood
. And this game is so fucking
goooood
!!!
Best Game Only for the Xbox 360
Runner-Ups:
-Forza 3
-Halo 3: ODST
WINNER:
Grand Theft Auto: Episodes from Liberty City
Almost all the 360's exclusives sucked ass last year. That bikini zombie game, the Ninja Gaiden rip-off, and that lame snowboarding game that I suspect was made by an entire dev team of potheads, none are worthy of any shout-outs. The only ones besides GTA that were worth more than shit were Forza, Halo 3: ODST and Halo Wars, and only 2 of those 3 even deserved an actual shout-out since while Halo Wars wasn't awful, it was still below standards. But still, one should not underestimate how good this 40-buck episodic adventure is. Of course, I favor Ballad of Gay Tony by a long shot due to my apprehension for white trash bikers, but even Lost & Damned deserves my respect for its deep story. Luckily, Episodes from Liberty City is sold as a retail game that you actually don't need GTA IV to play, so it technically counts as a full game in its own right. Otherwise, for this shout-out I'd have to pick between the driving simulator or the Halo game that is way too fucking short to warrant its current price tag.
Best Fucking Shit I've Seen This Year
Runner-Ups:
-Assassin's Creed 2
-Ratchet and Clank Future: A Crack in Time
-Metroid Prime Trilogy
The single greatest game of 2009 is... Batman: Arkham Asylum!
The fact that this game didn't receive even one Game of the Year award from any notable publication in 2009 is truly depressing. Not because I personally give two fucks about their opinion, but because of the lack of respect this game is getting from the major gaming news outlets. The only Game of the Year Award Batman has won is from GamesRadar, and despite being a more trustworthy gaming media site than IGN or GameTrailers, those guys hold only slightly more weight in the gaming industry as Yahoo! Games. It's comparable to whenever a major news network like Fox News skims over the list of missing children to only pick out the missing 5 year-old white girls. It's hard to get the word out that Batman is as great as it is, because
some people
are too busy sucking Modern Warfare's dick so hard that they give it the Best PC Game (how the fuck...), Best PS3 Game, Best 360 Game AND GOTY Award all in a fucking row, even though it treads old ground so hard it creates a damn trench. So much for putting an emphasis on originality.
Now is the time for that respect. Batman: Arkham Asylum is not only the best game of 2009, it's one of the best games so far in this generation. Hell, I'd go so far as to say it's one of the best games of all time. Brilliant mixing of stealth, combat, exploration, and Metroid-style unlocking of new gear that in turn unlocks new areas of Arkham, beautiful graphics with a dark-but-not-gritty art style, stellar voice acting with Kevin Conroy and the legend Mark Hamill himself returning to their iconic roles as Batman and his greatest foe The Joker, and an overall unique and unmatched feeling, a feeling that no other Batman game has ever given before. When you play Batman: Arkham Asylum, you are vengeance, you are the night. You are... Batman!